Pika Pika | Light doodles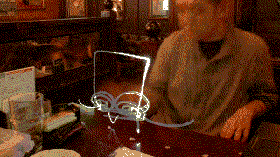 [ English ]
Pika Pika
is
Takeshi
's light doodling project.
Takeshi explains: We take photos of each image using long exposures and then place them toghether in order to complete the animation. We travel around different spaces in Japan and many friends get involved in order to bring this project to life. During the process people can interact and meet new friends as they create art, this is also about communication.
[ Castellano ]
Pika Pika
es el proyecto de garabatos luminosos de
Takeshi
. Quien nos explica: Tomamos varias fotos de cada imagen usando exposiciones prolongadas y luego las colocamos en forma lineal para poder completar la animacion. Nosotros trabajamos en diferentes espacios alrededor de Japon y muchas personas nos ayudan a completar varias de las piezas. Durante el proceso, las personas pueden interactuar y conocer nuevos amigos mientras crean arte, con este proyecto tambien buscamos la comunicacion.
Via:
MAKE
Labels: Japan, Light Graffiti, Stop motion